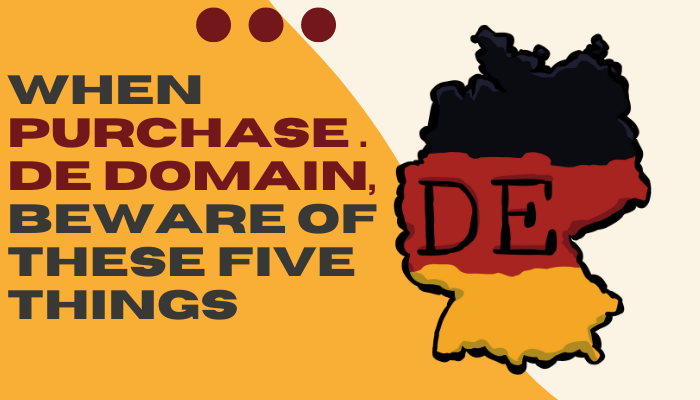 For a new business purchasing a domain is an exciting, important, and challenging decision. It is too difficult choosing a domain name for a website. Or a domain name is important for all types of websites. When you don't choose a domain name for your website then the user faces a lot of difficulties such as finding your websites in search engines, memorizing websites, and many more.
Further, With the help of an IP address, you can search websites but it is too difficult to learn the IP address because they consist of many numbers. So we can say a domain name is very important for a website.
Moreover, a domain name is chosen according to location and target audience. Suppose you target German internet users then the best option is to purchase .de domain. This domain is a country code top-level domain. All the companies that sell the.de domain are not the same. In order to make more money, some companies hide fees or sell your information, which can negatively impact your business. But here in this post, we discuss some things that you see before purchase .de domain. So let's begin!
The Five Things to Look Out For When Purchase .de Domain
There are five things that you check at the time of purchase .de domain. Because these are those things which are general ignore the people and a company take advantages of this so before buying a german domain name you can check the following things which are below:-
Watch Out For Hidden Fees
Price is an important factor at the time of purchasing any product or service. You can easily be tempted to buy a domain at a very low price. It's easy to be fooled, but don't be: some domain registrars offer a .de domain name at a low cost but they hide more costs in the contract. It is generally recommended to avoid registrars that offer rock-bottom domain prices since they may be making money in a less-than-ethical manner. The following are some of these tactics:
The domain registrar noticed that most people cannot read the fine print. So Before purchasing .de domain you must read all the terms of service for any types of obligations and fees. Before buying it check all renewal rates. 
Making You Pay to Edit Your WHOIS or RDAP Listing
The information on domain registration is to be shared with the public WHOIS and RDAP directories. And registrars give the authority to change this information whenever required. Make sure you don't pay a fee when editing the WHOIS or RDAP records with a registrar.
Registrars are trying to take money for those things ( upsell, cross-sell) which are not required. Such as they are trying to purchase additional domain endings that are not helpful such as .co and .info. Or that offer many other services which are unuseful for you.
Some domain registrars charge an additional fee to transfer the domain to other registrars. So make sure you read out this term and then purchase .de domain. This fess is unreasonable. This is against the ICANN policy (ICANN is a non-profit corporation that oversees the use of Internet domains).
Protect Your Privacy
You already know that detail of the domain are public records in the RDAP and WHOIS directories. There are many businesses that choose to keep their personal information private. Data that is not protected can be mined by spammers and scammers. Choose the domain registrar who gives the privacy protection. Be aware that the domain registrar who charges an additional fee for the "privacy services". 
Focus on Transparency
Search that domain registrar who gives transparency in their services. For example, you easily find the renewal rates and the process for cancellation and transfer of the domain. At the initial stage of purchase .de domain, some registrar gives a cheap registration but after a year they charge high fees for renewing a .de domain name. Also, they face a lot of difficulties in cancellation the order. Find out that the Domain provider who gives clear information related to pricing.
Protect Your Data
Some companies give personal information to third parties such as marketing companies. People are being scammed by some registrars sending false renewal invoices, which get them to unknowingly transfer their domains. You find that domain registrar who never sells personal information to any third party for the purpose of marketing.
Differentiate Support From Sales
Many Domain providers cannot have a group of support staff. But they have salespeople who have information related to buying. And that gives to the user. Before purchase .de domain readout out the reviews of companies support team and call them to get more information. You choose that domain provider who gives courteous and professional service.
Conclusion
For a new business buying a domain .de is so exciting and fun. There are many domain providers in Germany who give the services of domain .de so before choosing a domain provider for .de domain registration you can do proper research about the company and make sure your business is in good hands in the upcoming years. Take time and read out all the terms and conditions of domain providers. If you face any type of problem then contact the company's member through email, phone, etc. 
Also Read: How to Apply CSS in Your Web Design