Looking to add a touch of beauty and elegance to your home? With so many different types of flowers available, it can be difficult to know where to start. To make things easier for you, we've put together a list of beautiful floral arrangement ideas for every room in your home.
From vibrant centrepieces to dainty vase displays, there's something here for everyone! Read on for some inspiration and get ready to transform your space with these stunning flower arrangements.
Living room
The living room is one of the most important rooms in your home, so if you're looking to make it extra special, an eye-catching flower arrangement is a must! For the living room, consider adding a large statement piece that will draw the eye.
For example, an oversized bouquet placed in an urn or classic crystal bowl makes for a bold centrepiece. You could also opt for a long and low floral arrangement with a mix of vibrant and textured blooms, or an exotic-looking topiary tree.
For larger living rooms, try arranging a striking centrepiece with large blooms like roses or peonies. For small spaces, opt for smaller arrangements like daises and tulips that can be displayed on shelves or tables.
Bedroom
In the bedroom, create a tranquil and calming atmosphere by opting for low-key floral displays. Try using monochromatic flowers in muted tones like beige or lavender to keep things subtle and restful.
A single bud vase with one large bloom is all you need to add a soothing touch. Or for something more dramatic, go for an asymmetrical arrangement of wildflowers that will give your space a rustic and romantic feel.
There are plenty of ways to keep things soft and romantic with delicate floral displays. A simple vase full of pastel-hued roses is perfect for creating a cosy atmosphere. If you're looking to add some texture, opt for clusters of bright wildflowers or forget-me-nots arranged in different glass containers.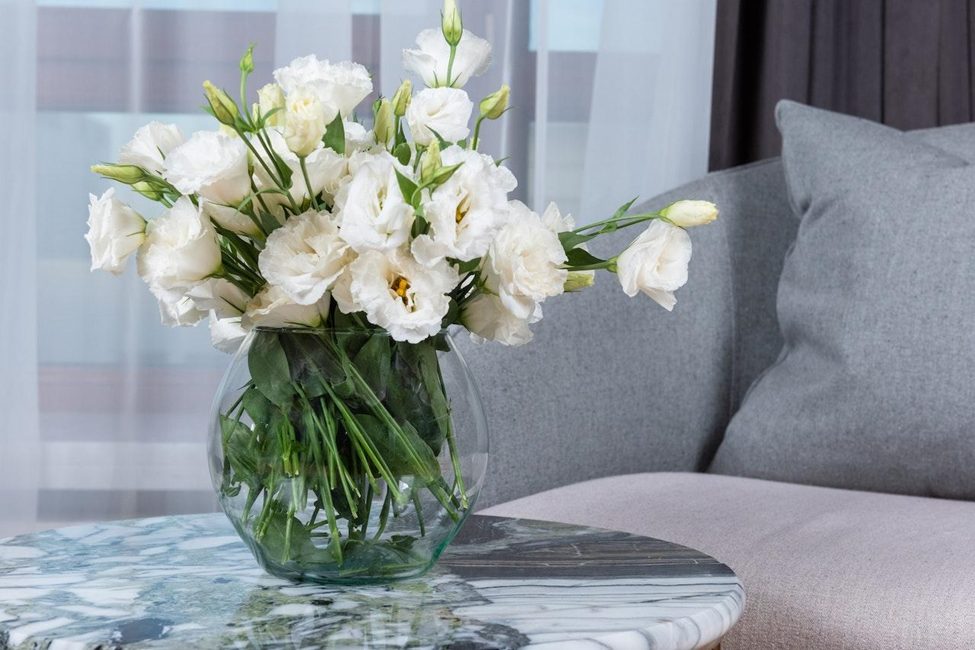 Dining room
In the dining room, create a stunning focal point by placing a large arrangement at the centre of your table. For something special, try using all white flowers such as peonies and lilies in varying sizes – this will give your display an airy feel that is perfect for special occasions.
If you're going for a more casual look, incorporate some brightly coloured blooms into the design like sunflowers or daisies. This will create a cheerful atmosphere that's perfect for hosting dinner parties and gatherings.
You could also try using seasonal blooms like tulips in the spring or poinsettias in the winter to give your arrangement a unique touch. Whatever you decide, make sure to add plenty of texture with an assortment of greenery and foliage.
Kitchen
The kitchen is often overlooked when it comes to flower displays, but adding a few delicate arrangements can really liven up this room. For something simple yet elegant, display some small vases filled with one type of flower each. This will give your space a refreshing and minimalist feel.
If you want to add some colour, opt for bright blooms like carnations or roses arranged in a tiered pattern. This will create an eye-catching display that is perfect for bringing some life to the kitchen.
The kitchen is also a great place to display dried flowers. For a rustic look, opt for flower heads like lavender or wheat that can be arranged in small bouquets and displayed on shelves or hung from the ceiling.
Bathroom
For the bathroom, stick to small arrangements that won't overwhelm the space. For example, try adding some colourful pansies in teacup planters or place several succulents together in a shallow dish – both are perfect options that will bring a touch of nature into your bathroom.
You could also hang an air plant on the wall and enjoy its unique beauty. Another great way to freshen up your bathroom is to use dried flowers. Scatter some rose petals around the bathtub or hang some lavender bundles from the ceiling for a spa-like feel.
To make it even more relaxing, you could add some scented cedar wood or rose petal potpourri to your display. This will create a soothing and calming atmosphere perfect for unwinding after a long, hard day.
Making the perfect flower arrangement
How can you make the perfect flower arrangement for your home? The key is to know what type of flowers are best suited to each room, as well as how to combine colours and textures for maximum impact. Start by choosing a palette that complements your home's decor – pastel tones work well for calming spaces while bright colours can bring an energetic feel.
For a balanced look, use different sizes and shapes of blooms. For instance, larger blooms like roses or peonies should be offset with smaller buds like daisies or freesia, or other gorgeous autumn flowers. Make sure to add some greenery into the mix too – this will create texture and visual interest while also helping the stems stay in position.
Choose a vase
The first thing you should do is pick a vase or container that will bring the whole design together. Clear glass jars are a great option for modern spaces while terracotta or ceramic pots can add a touch of rustic charm.
For instance, a vintage milk bottle can be used to create chic arrangements while wicker baskets are perfect for country-style designs. Don't forget to add some water too – this will nourish the blooms and help them stay fresh for longer.
Add greenery
Once you have the perfect vase, the next step is to add some extra foliage. This will not only create texture and depth, but it can also help to hide any imperfections in the arrangement.
Greenery like eucalyptus or ivy are great for filling out large blooms while delicate ferns look beautiful when scattered among petals.
Add focal flowers
Now, it's time to add some focal flowers. These will be the stars of your design and should be placed in the middle or around the edges of the arrangement. Don't forget to mix up shape and colour for maximum impact – for example, a bunch of yellow daffodils looks stunning against a bed of purple pansies.
You could also try adding seasonal flowers like tulip s in the spring or poinsettias in the winter to give your arrangement a unique touch. Whatever you decide, make sure to add plenty of texture with an assortment of greenery and foliage.
Add secondary flowers
To get the most of the design, add some secondary flowers. These can be smaller buds like lilies or hyacinths placed around the edges of the arrangement. This will create interest and draw the eye in for a balanced look.
Finally, make sure to give your flower creation one last check before placing it in its designated spot. Make sure all stems are in place and that any greenery is arranged neatly – you want your centrepiece to look perfect!
Add filler flowers
The last thing you can do to give your flower arrangement is add some filler flowers. These small blooms will fill in any gaps and make your design look more complete. Filler flowers can range from tiny daisies or baby's breath, to larger buds like carnations.
Try experimenting with different colour combinations for a truly stunning display – pastel tones look great when combined with bright shades of pink or yellow. To create an extra special effect, you could even try using scented varieties such as lavender or jasmine.
Finish with accessories
To bring your design together, add a few finishing touches such as ribbon or twine. If you're feeling creative, why not try making your own flower crowns or boutonnieres? These little details will give your arrangements an extra bit of personality and make them truly one-of-a-kind.
Some accessories, such as stones or shells, can also be used to create a more natural look – these will add texture and depth while complementing the flowers. Once you're done, sit back and enjoy your masterpiece!
Take care of your flowers
Finally, make sure to take good care of your flowers. After arranging them in the vase, cut off at least an inch from the stem ends before adding water and flower food. This will ensure that your blooms stay fresh for as long as possible.
Once everything is arranged and ready, simply sit back and enjoy the beauty of your flower arrangement. With a bit of practice, you'll be able to create stunning arrangements in no time! With these tips in mind, you'll be able to create beautiful arrangements that will bring life into any room of your home.
Conclusion
No matter what type of arrangement you choose, make sure to keep things symmetrical for the most impact. Try to stick with one colour scheme or use complementary shades together for the best effect.
These beautiful floral arrangements will add an elegant touch to any room in your home. With so many different types of blooms to choose from, you're sure to find something that fits your style and budget! So why wait? Start creating your own stunning displays today!