Last Updated on June 10, 2023 by
Use internet resources and trade exhibitions in your region to get inspiration. Don't forget to keep a note of the hues and fashion trends that inspire you, and don't be scared to experiment. If you are unsure where to begin, the 50 Floor inspiration page is a great location to look for ideas.
Are you a fan of neutrals and traditional designs? Do you enjoy bright, vivid colors in contemporary kitchens? Look for common threads in the styles that attract your curiosity. It is a great place to start if you're thinking of renovating.
Begin by Choosing Countertops:
It is easier to match Floors and Cabinets to countertops than the opposite. Building it around your countertops will have a much simpler time coordinating your kitchen. Flooring can be done by either by hardwood or by lamination.
When choosing countertops, consider your style and materials and color preferences. Natural stone is a preferred material for kitchen countertops due to its stunning appearance and long-lasting sturdiness. Depending on your preferences, you may also want to consider wood or concrete for your cooking and entertaining requirements.
Think in three hues:
Your accent color should match the hue of your granite countertops or other stone surfaces. Choose two colors that complement each other as the main focal points. then choose a third color to serve as an additional accent It's important to keep the main colors basic, but the accent colors may provide interest.
Before making a final decision on the color scheme of your kitchen, it's a good idea to mix and match the various shades in a small area of your house. It's critical that you like the color combination and that the lighting in your room brings out the best in each of the three tones. For flooring, counters and cabinetry, choose timeless options that won't go out of style.
Coordinating the Counters:
You want your kitchen to look good for a long time, so select timeless colors. To make your kitchen more up-to-date and stylish, use low-cost, easy-to-replace accessories. Using bright designs and current colors on your kitchen's décor items, such as towels, small appliances, wall paint, and curtains, is a less time-consuming option. It will be much easier to alter the look of your kitchen if it has classic-colored countertops, flooring, and cabinets.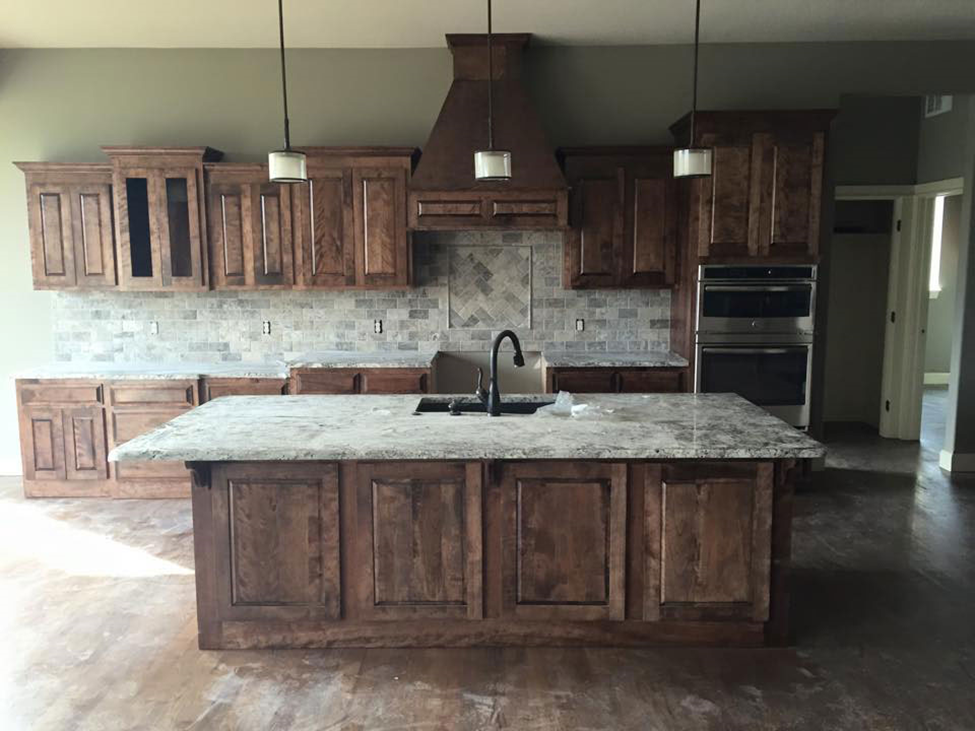 Take into account both texture and color
Consider both texture and color.
Choosing your three accent colors and getting a feeling of how you want your kitchen to look and feel are the first steps; now, it's time to think about the texture and finish. Matte or high-gloss finishes, a rustic theme, or a sharp-edged contemporary design significantly impact how the same colors seem. Rich textures, such as rough stone or polished marble may also provide interest if you favor muted hues.
What Are the Benefits of Hardwood Flooring?
Sharp edges will seem extremely different on a counter with rounded corners. Using round pulls on cabinets will give the room a distinct vibe than using geometric ones. Choosing a herringbone pattern, tiles, or another flooring form may significantly impact the final look.
Consider the following standard kitchen floor, cabinet color, and material combinations when remodeling your kitchen.
Colors & Materials in a variety of hues:
In a kitchen, contrasting colors create a sense of balance and aesthetic attractiveness by using bright and dark colors. Using hues on opposing ends of the color wheel, such as red and green, may create a strong first impression in your kitchen. Black and white or brown and grey are two of the boldest contrasts in a contemporary kitchen's design. When it comes to color schemes in a classic kitchen, dark cherry cabinets and light laminate flooring are the norms.
The use of contrasting materials in contemporary design is also a trademark of this style. You might match wood cabinetry with natural stone tile flooring in your kitchen for a striking contrast. Consider which kind of flooring, counters, and cabinets would make a striking visual statement without being too similar.
Materials that Have Been Used Before:
You may achieve a unified aesthetic by combining the same or comparable materials throughout your kitchen. For example, if you choose oak cabinetry, you may wish to include hardwood flooring in the design. Choosing oak flooring will still offer your kitchen a distinct look since oak cabinets come in various colors. With a porcelain or ceramic tile that mimics the appearance and feel of genuine stone, you can have an eye for a fraction of the price.
Avoid using the same material for your cabinets, countertops, and flooring since it might seem dated. Instead, choose two of the three pieces from the same material and then use the third as a contrast.
The Impact of Colors:
To make your space more lively, keep in mind that there should be some difference in the colors you choose. Depending on your preferred colors, a monochrome design might offer the impression of a bigger kitchen. White flooring may be used with white cabinets to create a rustic effect in a white kitchen. The veining patterns in porcelain or ceramic tile might complement your white counters and cabinets.
You may utilize many shades of the same hue in your design, even if you wish to employ the same colors in your overall color palette. Create a design motif in your kitchen with varying tones of blue or beige. You may also add a splash of color to the remainder of your kitchen by using the color differences in your hardwood, laminate, vinyl, or tile flooring.
Is It Necessary That Countertops and Floors Match?
The colors and materials of your floors and countertops don't have to match exactly, but they should complement each other to give your kitchen a cohesive design.
Contact 50 Floor to set up a free in-home consultation if you're unsure which flooring solution will look best in your room. It's possible to have one of our flooring specialists bring samples to your house so you can compare alternatives and pick the ones that complement your countertops in your natural light.
Potential Criminals Hiding Behind Unbalanced Base Cabinets:
What are the likely culprits that are responsible for uneven base cabinets? Likely, the cabinets weren't built correctly because the contractor you selected wasn't subjected to rigorous screening processes before employment. Nevertheless, the most common damage cause is wear and tearthroughout the cabinet's lifetime. For this reason, it is recommended that you arrange a general assessment of your house prior to installing new cabinetry or countertops in your kitchen.
The Proper Way to Level an Uneven Cabinet Base and Flooring in the Kitchen:
It's possible that the flooring in your sloped kitchen has to be reinforced and leveled. If this isn't possible, however, your contractor may be able to use shims, which are pieces of wood with tapered ends that are used to fill in gaps to level the cabinet base or the top of the cabinets so that you don't have to replace them. Shims are an alternative to relocating the cabinets.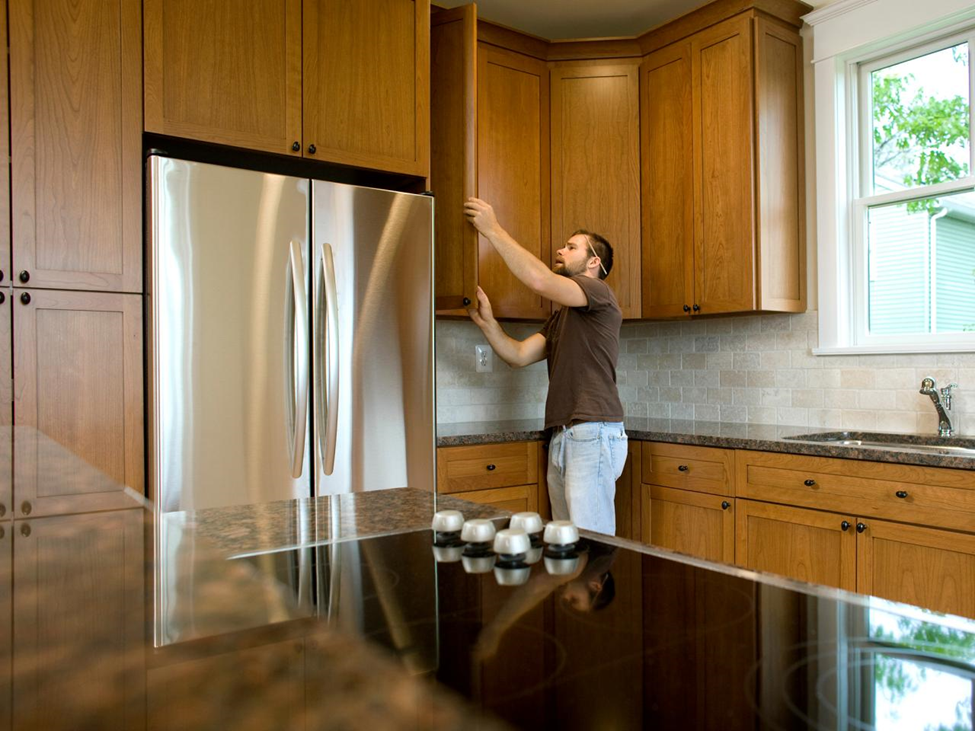 Final Thoughts:
Choose a countertop with a subdued design for a calmer look. If you have a distinctive tile pattern (black-and-white checkerboard) or sand-and-finish hardwood with unique grain patterns, the countertop pattern should be understated. Choosing a busy countertop design can quadruple the floor's effect, which might be too much.
If your flooring is nice but doesn't attract attention, you may liven things up with a textured or patterned countertop. If you don't like dramatic patterns, it is excellent to select a cabinet finish that contrasts with the floor/countertops and add pattern/texture/contrast to your backsplash.
Apart from this if you are interested to know more about Instantly Transform Your Kitchen then visit our Home Improvement category