Last Updated on June 11, 2023 by
The seed of the Moringa tree, a leafy tree species native to the Himalayas, is used to make moringa oil. About 35–40% of non-drying Moringa oil, also known as Ben oil or Behen oil, is produced when the seeds from the pods are removed.
Drumstick, also known as moringa, is a delicious spice that is an essential component of Indian cuisine and has great nutritional advantages for the skin and hair. Among its many other qualities, Moringa, also called the "Miracle Tree," is well recognised for its ability to nourish the hair and give the skin luster.
While moringa has become more well-known in recent years, its history goes back much further because it is an ancient Vedic tree that is referred to as an incredibly healthy food in the Vedas, Brahmanas, and Puranas.
There are numerous health advantages to the moringa tree in every part. For instance, the o4u organic moringa powder is made from dried and powdered moringa leaves, whilst the drumstick-like fruit that grows on the tree is used straight in meal preparations. The most useful product obtained from the Moringa Tree is Moringa Oil, which is extracted from the tree's seeds.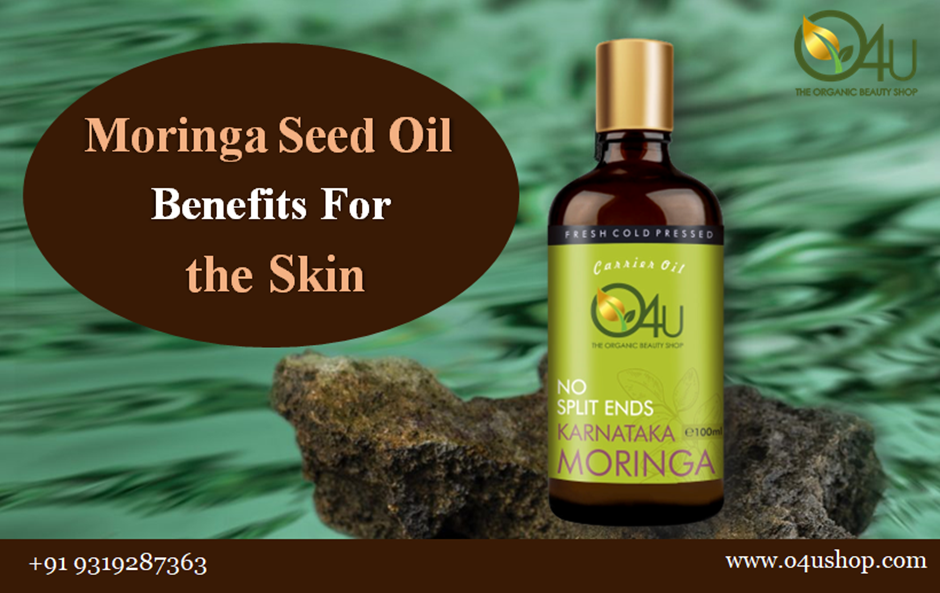 Moringa Oil is a gift from nature for your skin at a time when everyone is concerned about protecting their skin from the damaging effects of environmental pollution. Due to its anti-aging, therapeutic, and beautifying properties, it is the most sought-after oil in the cosmetics industry.
Moringa oil may maintain its freshness for a long time and has good resistance to getting rancid. It is a unique component of many different beauty and health products, including age-defying creams, reviving shampoos, and other items.
Benefits of Moringa Oil:
The medicinal and cosmetic uses of moringa oil date back thousands of years. Perhaps this explains why residents of these nations are praised for having beautiful skin and being youthful-looking.
Your skin will be organically cleansed, nourished, and cared for with the aid of moringa oil. Moringa oil is frequently contrasted with other oils like olive oil and argan oil, yet it stands out because of its unique makeup.
Moringa oil is high in cytokinins and, more importantly, zeatin makes it one of the key advantages that make it a preferred ingredient in the cosmetics sector. By nourishing and maintaining skin tissues, zeatin aids in promoting cellular growth and slowing the aging process.
Additionally, oleic acid keeps the skin moisturised. Antimicrobial, antibacterial, antioxidant, antifungal, and anti-aging effects are all present in moringa oil. These aid in treating a wide variety of skin issues, including the signs of aging like wrinkles and lifeless, dull skin.
The Benefits of Moringa Oil for Skin :
1. Repairs skin from damage caused by pollution :
The skin gradually loses its antioxidant protection as a result of pollution and small dust particles, leaving it feeling dry. These particles impair skin hydration and interfere with the surface barrier function.
2. It works as an Anti-aging Oil :
This nutrient-rich oil contains antioxidants that aid in reducing the activity of free radicals, decreasing the aging process. Additionally, it aids in eradicating wrinkles and preventing face skin drooping. Because of the oil's high vitamin C content, collagen is stabilised, which reduces fine wrinkles and repairs damaged skin cells
3. Nourishes Dry Skin :
Moringa oil helps in retaining moisture in the skin and soothing dry skin. It helps combat conditions such as psoriasis and dermatitis. Moringa oil is also excellent for moisturising cracked, dry lips.
4. Helps in Relief Pain :
By taking a bath in this water, you can reduce stress, cleanse your body, find inner peace, and get rid of exhaustion.
Apart from this if you are interested to know more about Sunflower Oil: Benefits, Uses, And More then visit our Daily Bites category