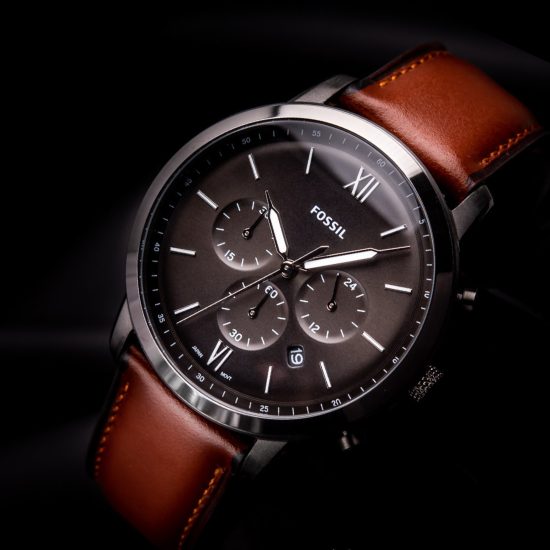 Achieving a dapper look involves meticulous attention to detail and selecting well-fitted, flattering attire. The right accessories, such as a watch, can significantly enhance your style. For men seeking a dapper aesthetic, Fossil watches for men provide an excellent choice. With a diverse range of styles, there is a Fossil watch to suit every individual preference.
In this blog post, we will provide styling suggestions for incorporating Fossil mens watches into your dapper wardrobe. Whether you favour a timeless design or a more contemporary trend, Fossil offers options to cater to your taste.
Whether you are a novice dapper dresser or a seasoned pro, we invite you to read on to gain valuable insights and advice.
Here are some specific styling tips for seamlessly integrating Fossil mens watches into your outfits:
Fossil Men Neutra Round Grey Watch SKU FS5512
Elevate your style with the Fossil Men Neutra Round Grey Watches, a versatile timepiece suitable for any event. Boasting a sleek 44mm stainless steel case, smoke-grey dial, and stick indices, the watch features a chronograph function, a date window, and an amber leather strap.
This fossil watch is perfect for dapper dressing, effortlessly transitioning from casual to formal occasions. Pair it with a suit or dress shirt for a sophisticated ensemble or dress it down with jeans and a button-down for a more casual look.
The Fossil Men Neutra Round Grey Watches is a must-have addition to a gentleman's wardrobe. It exudes style, versatility, and is guaranteed to grab attention.
Fossil Men Grant Round Blue Watch SKU FS4835
Add a touch of classic sophistication to your attire with the Fossil Men Grant Round Blue Watch. This stylish timepiece is a perfect fit for any dapper gentleman. It showcases a 44mm stainless steel case with an elegant rose gold finish. The dial boasts a captivating blue hue, complemented by Roman numerals and a useful chronograph function. The fossil watch is also water resistant up to 50 metres and boasts a genuine leather strap.
The Fossil Men Grant Round Blue Watch is a versatile accessory suitable for a variety of occasions – from professional settings to leisurely activities. It effortlessly captures a refined aesthetic when paired with both formal and casual outfits. Elevate your style and exude sophistication with this exceptional timepiece.
Fossil Men Townsman Round Brown Watches SKU ME3098
Achieve a look of timeless elegance with the Fossil Men Townsman Round Brown Watch, a remarkable timepiece designed for the discerning dapper gentleman. Featuring a round 44mm stainless steel case with a striking black ion-plated finish, this watch exudes sophistication. The brown dial is enhanced with luminous hands and markers, ensuring effortless readability. Powered by an automatic movement, this fossil watch also offers a water resistance rating of 50 metres. Complete with a brown leather strap and a secure buckle closure, it combines style and functionality seamlessly.
The Fossil Men Townsman Round Brown Watch is a versatile accessory, suitable for various occasions ranging from formal business meetings to evenings out on the town. It effortlessly transitions between dressy and casual attire, thanks to the combination of the brown leather strap and the black ion-plated case. Embrace refinement and choose this exquisite timepiece that perfectly complements your personal style.
You can effortlessly incorporate Fossil mens watches into your dapper wardrobe and showcase your best look.
If you're in search of a new watch to enhance your collection, make sure to explore the diverse options available from Fossil. With our wide range of styles, there is undoubtedly a perfect watch waiting for you. Don't forget to visit the Helios Watch Store, where you might just discover your new favourite timepiece!
Head over to our Helios website today to browse through our selection of Fossil mens watches. We have something to suit every taste, from timeless classics to trendy styles. Additionally, our competitive prices ensure that you can find a watch that not only complements your style but also fits your budget perfectly.