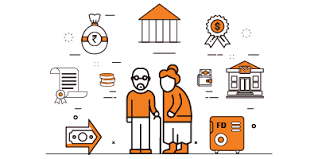 Last Updated on June 10, 2023 by Hassan Abbas
Investment is a necessity to grow your money for the future. As a senior citizen approaches his/ her retirement age, they need to start saving for their future as well as also help their money grow to earn income. Hence, senior citizens need to invest in the best options out there to grow their money and give them income during their retirement phase. While there are various types of investment options to choose from in India, one should keep in mind their age and their requirements for investment.
This includes deciding whether To invest
For long term or short term
In risky or risk-free investments
To check liquidity requirements in case of financial emergencies
You need to take into consideration these factors while selecting your investment avenue.
While choosing an investment plan from the various investment options. It is critical to match the risk profile of the investor, that is, you with the related risk of the product
Given, that a senior citizen is investing for their retirement, they need to invest in schemes which give them better returns with less risk.
One of the avenues where senior citizens can invest in is the Senior Citizen Saving Scheme (scss). SCSS is a saving scheme for senior citizens which is sponsored by the government of India. It was launched in 2004 with the primary objective of helping senior citizens. Ensuring a regular and continuous flow of income. It is a 5-year investment option for most retirees. And can be availed by anyone above 60 from a post office or bank. The tenure can be further extended by 3 years once the scheme matures. With an upper limit of Rs. 15 lakh, the interest rate on scss scheme is payable quarterly and is fully taxable. It is easy to invest in an scss scheme with a minimum deposit of just Rs. 1000.
To opt for the senior citizen saving scheme, the following eligibility criteria has to be met:
The individual must be an Indian citizen
This scheme can be easily availed by depositing just a minimum amount of Rs. 1000
A resident of India who is either 60 years or above is eligible for the scheme, except retired defense personnel. A retired defense personnel can take advantage of this scheme irrespective of their age. Provided they fulfill all other conditions. There is one more caveat to this. Retirees who are between the age of 55 to 60 years and have opted for Voluntary Retirement Scheme (VRS). Superannuation can take advantage of this scheme if they apply for the same within a month of gaining their retirement perks.
With FDs, you can pick a long or short tenor as per your investment strategies and RDs also provide quite a wide range of tenor options. The FD rates of both bank FDs and RDs are not high enough to generate sufficient returns. However, Bajaj Finance is offering interest rates of up to 7.25% on its fixed deposit plans. Bajaj Finance FD gives you the option of picking a flexible tenor between 12 and 60 months as per your convenience. Also, you have the choice of investing in a single FD or multiple FDs at the same time.
Fixed Deposit Scheme
Bajaj Finance FD has integrated a feature multi-deposit facility through which you can divide your corpus into smaller chunks and invest each of them in a separate FD of varying tenors. This facility even lets you invest in both cumulative and non-cumulative FDs at the same time. Also, a single cheque can be submitted to deposit in all the FD accounts at once.
You can invest in this FD scheme with only Rs. 25,000. The fixed deposit calculator that is provided on its website lets you decide the tenor, fixed deposit type, and deposit amount as per your requirements. A higher FD rate of 0.10% is offered if you invest through the online FD form and your deposits will gain interest at a 0.25% excess FD interest rate if your age is 60 or more than that.
Investing in Bajaj Finance FD is safe as it protects your investments from the changing market conditions. The credit rating agencies like CRISIL and ICRA have identified it as one of the safest places to invest your savings by providing it with the highest credit ratings.
Another good investment option for senior citizens is Fixed Deposit.
A fixed deposit is an investment to grow your savings and earn a higher rate of return than a regular savings account. It is offered by banks and NBFCs (Non Banking Financial Companies). A fixed deposit has the lowest risk in the portfolio of investment. Money is invested in a fixed deposit with a lock in period and interest is given either at the end of the maturity date or as a regular payout.
Parking your investment in the correct Fixed Deposit in 2021 will ensure high fixed deposit returns on maturity and also a choice of regular interest payouts throughout the chosen tenure.
An attractive interest rate is offered by Bajaj Finance Fixed Deposit for Senior Citizens. It is as high as 7.05% on renewal. No other fixed income investment offers such a high interest rate. It offers alot of flexibility. In terms of the amount that needs to be invested. The tenor of investment and availability of periodic interest payouts to meet regular monthly expenses. The Bajaj Finance Fixed Deposit Scheme for senior citizens offers a flexible tenure of 12 to 60 months with with multiple unlimited renewals
Read More: https://fiylife.com/category/finance/