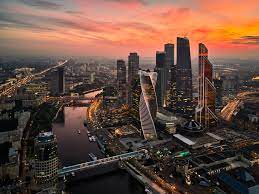 Last Updated on January 24, 2023 by admin
The living costs in Moscow as a bachelor is determined by the student's particular lifestyle and activities. On the other hand, vary between 15,000 and 20,000 RUB per month on average.
Costs of living in Moscow
Food cost
Breakfast/lunch costs roughly 300 RUB, with a complicated meal offer for 135 RUB. For every taste, Moscow boasts a wide range of cafes and restaurants. In most cases, a decent supper may be had for around 800-1200 RUB per person. On the other hand, fast-food restaurants are substantially less expensive: KFC: 400 RUB per meal, McDonald's: 300 RUB per meal (Burger+Fries+Cola), canteen-style eating facility or a lunch deal a restaurant.
Purchasing food and beverages and cooking at home costs around 3000-4000 RUB each week, with prices for vegetables and fruit varying thus according to season.
Utilities Cost
Most Moscow residents believe utilities to be expensive, likely due to the astronomical wintertime costs. Utilities are affordable compared to other capitals, nevertheless. All essential services, such as electricity, gas, garbage collection, heating, and cooling, cost about $120 for an 85 m2 apartment.
Insurance
A $15,000 annual health insurance policy costs around 5500 RUB. This is almost the same as a $50,000 international medical insurance policy (medical fees in Moscow are less than abroad). On the other hand, private health centers offer more expensive health insurance packages (around 60 000 – 100 000 RUB a year).
Transportation
Students can save a lot of money on public transportation, such as buses and trolleybuses. The cost of a cab ride within Moscow ranges from 600 to 1000 RUB, based on the distance covered and traffic congestion.
Internet
The internet is provided for no cost (study rooms, library, etc.). The cost of mobile internet could range from 500 to 1000 rubles per month.
Obtaining a visa and extending a visa
Every foreign visitor to Russia must register their Russian visa within 72 hours of arrival, except on holidays and weekends. All learners must first get a 90-day entry visa. The cost of extending a visa is RUB 1000.
Read More: All The Information You Need To Know About Living In Los Angeles
Recreational Activities
The Bolshoi Theater tickets start at 3500 RUB. Any other theatre would cost between 500 and 1500 RUB. A movie ticket will set you back around 400 RUB. The entrance fee to Moscow's museum and exhibition halls starts at 200 RUB. On the other hand, students can get a lot of discount coupons if they show their student ID.
A night at a club may cost anywhere from 1000 to 4000 RUB. Naturally, the rates vary depending on the entry fees and the pricing lists of the clubs. A pint of beer costs around 300-400 RUB in a pub. Weekly activities can cost up to 700 RUB, while major vacations can cost up to 3000 RUB.
Houses
If a student prefers to live in a separate bedroom outside of a hall of residence, the cost of renting out rooms is determined by market prices as well as factors such as proximity to subway stations, location, and other factors; typically, the cost of renting a single bedroom in residence is around 25 000 RUB per month, except the cost of public utilities.
Purchases of clothing and other items
Winter clothing and shoes are also priced differently, ranging from 4,000 to 20,000 RUB. It is determined by the student's style and brand choices. A nice winter coat might cost between 5000 and 8000 RUB. Decathlon and Sportmaster, for example, usually feature a nice assortment of casual clothing that is ideal for the Russian environment.
Dormitories
Dormitories do not have enough culinary equipment to meet every student's needs. Thus they should have their own (pots, around 400 RUB, pans, 200 to 500 RUB, plates, etc.; a kettle will cost around 1 000 RUB). A rice cooker or an electrical pan, which can be obtained for 2 500 RUB to 5 000 RUB, is also an excellent alternative for cooking in the dorms.
Learning the language: A tutor will charge about 1500 per hour if knowing Russian is a requirement and a student wants to attend Russian language sessions beyond the university. Communicating effectively with Russian friends and classmates, on the other hand, is usually beneficial to improving their language ability.
Books range in price from 400 RUB to 1000 RUB. Every bookstore usually contains a section devoted to books written in a language apart from Russian.
Cost of living in Moscow for foreign employees
Estimating how much it'll take to meet one's living expenses is challenging, as it varies on various factors, including one's demands and habits. The typical living cost in Moscow varies depending on which district one lives in, as this has a significant impact on rent, transportation, the sorts of local stores and supermarkets, and cafés and restaurants.
1. Housing
The most significant expense will most likely be privately leased housing, which will vary significantly based on the district and the type, size, and level of lodging. The town center is more costly in all areas, including flats. The majority of flats are rented completely furnished.
2. Transport
Because there is no licensing and no time constraints for a trip, transportation in Moscow can be regarded as relatively reasonable.
FAQ's
Apart from this if you are interested to know more about 10 Best Resorts In Bangalore For That Perfect Weekend then visit our TRAVEL category.