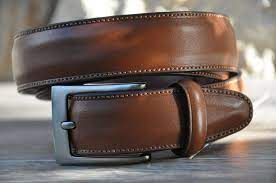 Last Updated on February 28, 2023 by
Introduction
Leather belts are the best option for wearing with your business attire. Mens leather belts can be worn on almost any formal occasion, and they add class to your style. They go well with both traditional and modern attire, making them perfect for office wear as well as social occasions. Some people even prefer leather belts over any other type of belt because they are durable and long-lasting.
Quality
The most significant benefit of a leather belt is its durability. Leather is hard to destroy and will last for many years, even if you wear it daily. It holds up well in rain, snow and mud and doesn't break down easily over time like other materials do (like cotton). They're comfortable too. If you've ever worn an old pair of shoes that gave up on you during the day, you know how bad the situation can get.
Leather goes with everything—from jeans to khakis—so you'll never have any trouble matching your outfit with your new belt. Plus, it just looks great! You could even wear one with a suit if you wanted to all year round – no problem at all. The best part? They're timeless classics that never go out of style, so once again: why not invest in something good quality and stylish?
Comfort
Mens leather belts are comfortable for a variety of reasons. First, leather is a natural material that is soft, flexible, and breathable. It's also cool in hot weather and warm in cold weather—a feature that makes it ideal for year-round use.
Durability
Leather is a natural material, and it's strong and durable. It doesn't tend to stretch as some synthetic fabrics do, so you can count on your belt to last for years. The leather insulates against heat and cold as well as moisture, making it an ideal choice for outdoor activities such as hiking or hunting.
Design
There's a belt design for every man. Whether you are looking for a casual belt or something more formal, there are plenty to choose from. From smooth leather to braided and distressed patterns, there is an option that will suit your personality and taste. You can also choose between different widths depending on how much support you want or need in your daily life.
The right belt can immediately change the look of an outfit and make it feel more complete, as well as give it a personal touch. It may be subtle, but when paired with other accessories such as watches, wallets and sunglasses, it helps show off your individual style to others around you which makes choosing one less stressful than having no choice at all.
Sophistication
Leather belts are an elegant accessory that you can wear with just about anything. They're sophisticated, so they look good when dressed up or down. You can wear them with a suit, khakis and a button-down shirt—or even just jeans and a flannel shirt.
They're also a great way to add some colour and personality to your outfit. You can choose from a variety of different belts, including leather and suede.
Conclusion
With the increasing interest in men's fashion, it is no surprise that leather belts are back in a big way. If you're looking for a new belt that reflects your style and sense of style, then picking one from this list of benefits might be just what you need.
Apart from that if you want to know about Gorgeous Leather Jacket then please visit our Fashion category